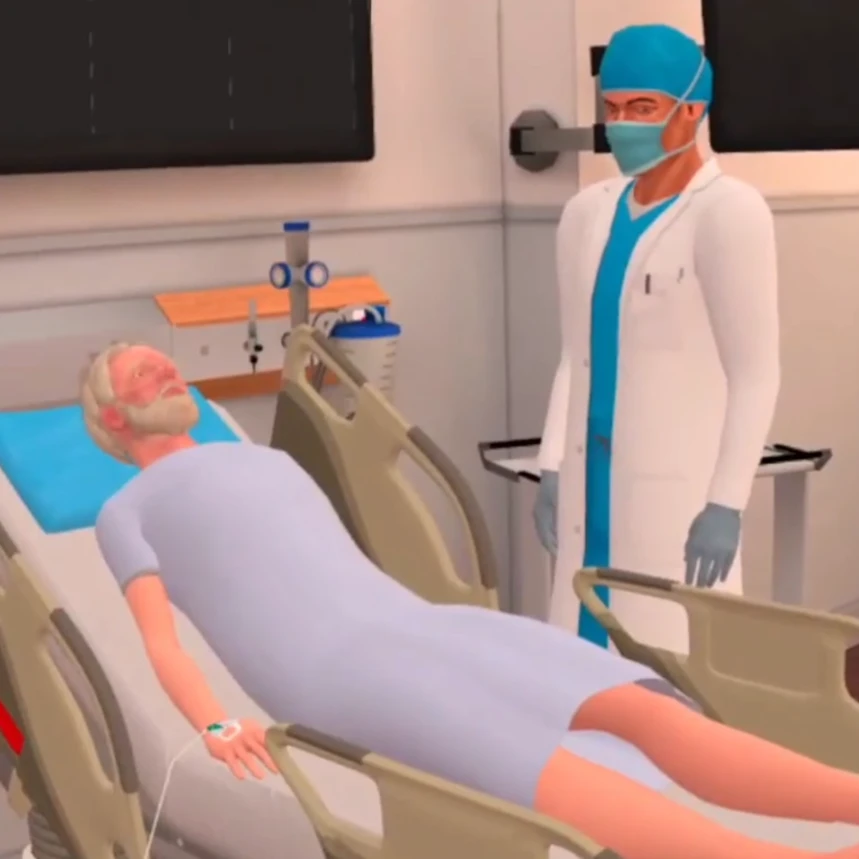 Introducing: The Health Scholars Stroke Assessment Course
Published February 16, 2023
At Health Scholars, we provide consistent, objective, evidence-based training built on industry best practices. Using our patent-pending voice-led Virtual Reality (VR) healthcare training, your team completes mandatory exercises in high-risk events. These highly immersive learning experiences direct nurses and clinicians in reality-based training that drives higher engagement and increased retention.
Healthcare organizations are in great need of productive training that affects real change in their facilities. A recent poll from professional services firm Aon found that 83% of hospitals ramped up their clinical hiring practices over the past 12 months. Supervisors must quickly and efficiently bring these new hires up to speed with the necessary training and "refresher courses." Healthcare organizations can also implement VR training as part of the onboarding process for new hires and traveling nurses.
To meet healthcare organizations' requirements for patient safety compliance, we developed a virtual reality-based training program designed to prepare nurses and physicians to identify and recognize stroke signs and symptoms by administering the National Institutes of Health (NIH) Stroke Scale.
Q&A with the Health Scholars Product Team
We sat down with members of our Product Team to discuss some of the benefits the Stroke Assessment Course brings to hospital med-surg floors, critical care units, and the emergency department.
How does this new VR voice-led Stroke Assessment Course fit within the broader scope of Health Scholars' offerings? What triggered its development?
We believe that the voice of our customers drives everything we do. Responding to what the market needs to solve current problems is essential, and nurse leaders uniformly told us they needed better stroke-based training. Nearly 1 in 5 people over 25 will experience a debilitating stroke during their lifetime, according to a 2018 New England Journal of Medicine study. When nurses quickly and accurately identify stroke symptoms, they can activate a stroke alert and mobilize resources for their patients to prevent further complications.
The U.S. Bureau of Labor Statistics estimates that the registered nursing workforce will grow by 6% over the next decade, a figure that can't keep up with the increasing number of experienced and tenured nurses bowing out of the profession. This shortage means talented, dynamic new nurses are coming in to replace retiring ones. Still, they need effective, engaging training that supports new graduate nurse confidence as they transition to independent practice.
As hospitals bring on a high number of new nurses and other frontline clinicians, they find it necessary to provide further neurological training to better care for patients. We heard the voice of our customers, and our team began developing the Stroke Assessment Course as a prototype in mid-2022. Initially designed as three unique virtual reality stroke-based scenarios, our team built one beta module and tested it with our current customers.
The response we received was overwhelming – customers loved it and kept asking for more, so we realized the immediate need to build it beyond the initial beta.
Why would a hospital want to use this Stroke Assessment Course compared to conventional training?
There are several problems in existing training options with distinct negatives:
Standard, simulation-style training requires an expense that hospitals just can't spare. These training scenarios involve an actor or a costly high-fidelity manikin attempting to replicate stroke symptoms, which is inherently limited as neither can accurately reproduce all potential symptoms of a stroke.
Classroom training for stroke assessment quite simply doesn't cut it. It's difficult to replicate what you've seen during a PowerPoint-led training session in a real-world situation.
With our Stroke Assessment Course, we perfectly simulate various stroke symptoms in our training scenarios. This experience is the closest nurses and physicians get to working with an actual bedside stroke patient. This secondary education helps clinicians comply with industry standards and stay up-to-date with their practiced skills.
We worked with industry experts and clinicians to develop these particular scenarios, in addition to receiving permission from the NIH to utilize their scales and materials.
Walk us through how the Stroke Assessment Course works. How does it help clinicians identify stroke symptoms or strokes directly?
The Stroke Assessment Course is a complete VR-based program with built-in patient monitoring, active tracking for visual and audio cues, and more. It educates users on identifying minor strokes and stroke-like symptoms, which directly saves lives and organ and brain function.
Our team built the course using the NIH stroke scale, a multipart assessment tool that clinicians worldwide use to identify a patient's stroke symptoms. Here's how it works:
A non-playable character, or "NPC," guides the user in administering the NIH stroke scale step by step.
The patient is represented by an avatar that can respond and interact with a user. Users are given important background information that may help them correctly care for the patient.
The learner asks the patient various questions, performs several small physical exercises, and monitors the results.
Many symptoms mimic strokes, so users must ascertain whether a patient has a stroke by analyzing finger movements, facial drooping, and more.
The learner is then provided a readiness score, which is determined by assessing core competencies throughout the simulation.
Based on this assessment, they recommend them for further study and evaluation. Using this method, the course gives clinicians an authentic representation of an actual virtual patient.
What should we expect for this course's future and any others that Health Scholars is currently developing?
Currently, we offer the Stroke Assessment Course as a standalone program. Later this year, we will add it to Health Scholars Workbench, our proprietary content-building platform for VR training in healthcare. As we grow our training scenarios, we will add additional modules to our library.
We're also developing other unique courses for Emergency Care, the Operating Room, and Labor & Delivery. These include:
Intraoperative Hemorrhage
Fetal Heart Monitoring
Precipitous Delivery
Hypertensive Crisis
Sepsis
We're excited for our customers to utilize these courses to deliver holistic care and ensure patient safety.
The Future of Emergency Care Training
Interested in how VR training prepares your teams for real scenarios? Check out our Pediatric Emergency Care VR Simulation Training or ACLS Virtual Reality Simulation.
Ready to start a conversation on how Health Scholars nurtures experience and grows confidence in your clinicians? Let's get in touch.
Share This Story, Choose Your Platform!