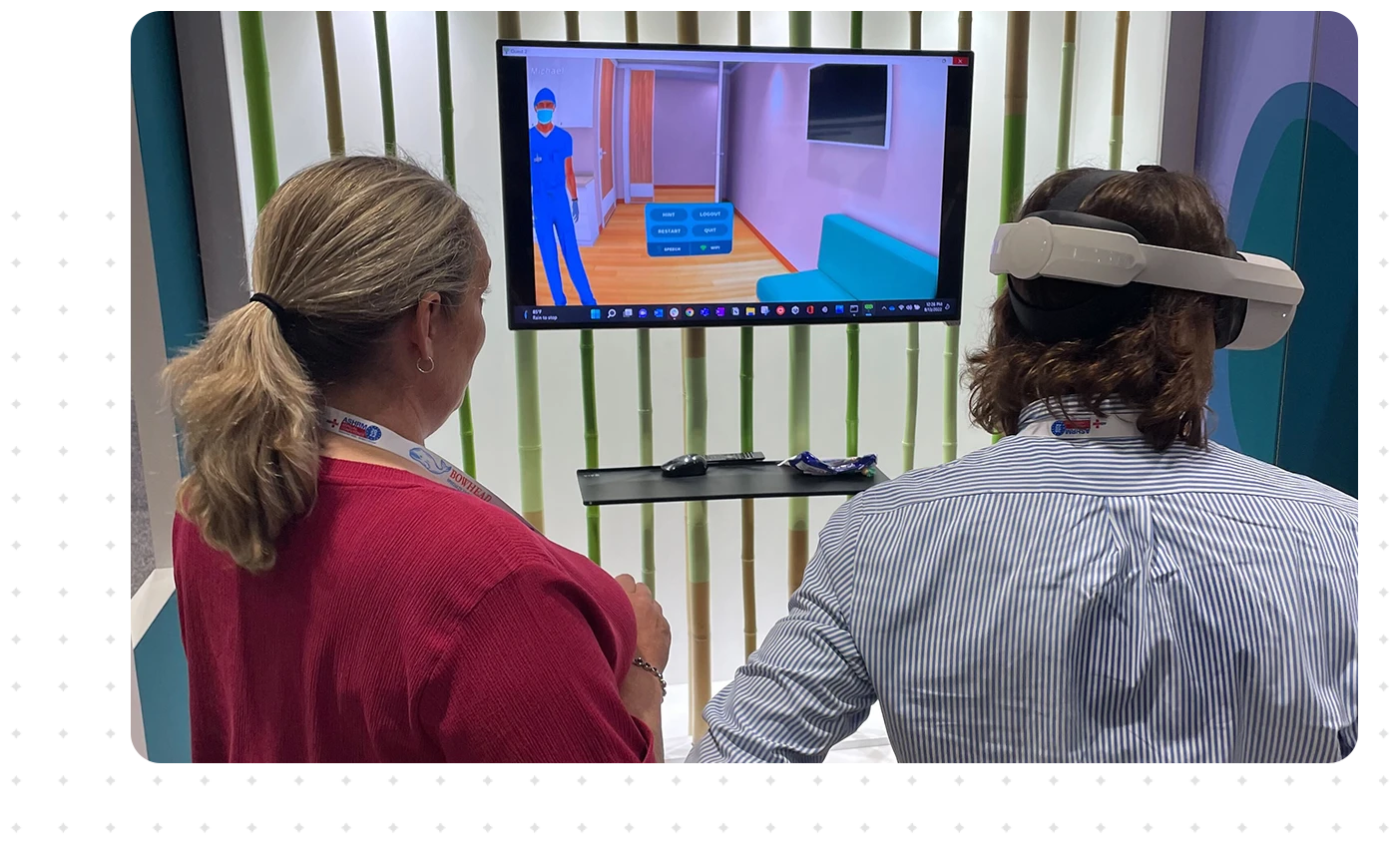 Revolutionizing Medical Training with Custom VR Content
Published November 8, 2023
Revolutionizing Medical Training with Custom VR Content
In the ever-evolving world of healthcare, staying at the forefront of medical training is crucial for both professionals and institutions. The world of Virtual Reality offers a groundbreaking solution.
At Health Scholars, we specialize in creating custom VR content designed to meet the unique needs of our customers. Our goal is to provide a seamless, immersive, and repeatable training experience for healthcare professionals. With Health Scholars, you'll have access to a virtual world where the possibilities for training are limited only by your imagination.
The Health Scholars Difference
Our commitment to advancing medical training through VR sets us apart. We understand the demands and complexities of virtual training, which is why we offer an all-in-one solution that simplifies the process for our clients.
Our team of experienced VR designers and developers creates environments that replicate real-life scenarios with unprecedented accuracy, creating deep immersion tailored to your specific training needs. We have a library of pre-built art assets to reduce cost and speed up development for everything needed to create a custom scenario. This includes environments such as patient rooms, operating rooms, home environments, and more. We also provide virtual staff, patients, and equipment, with lifelike animations to enhance the training experience.
We work closely with you to understand your unique training requirements, and together can rapidly build meaningful and repeatable training simulations. We adapt our VR content to fit your training objectives, ensuring a personalized experience.
Health Scholars provides an unparalleled user experience, where clinicians use the same tools in virtual reality, that they do in real life, their voice and hands. This allows the user to speak directly with patients and ask questions. In addition to voice, users are able to interact with equipment and the patient for in-depth assessments.
Health Scholars VR training eliminates the need for physical resources, reduces the dependency on specialized instructors, and minimizes the logistics of coordinating training sessions. With VR, the training comes to you, anytime, anywhere.
With VR, you can train hundreds of healthcare professionals simultaneously with consistent quality. There's no variation in training delivery and no risk of resource shortages. Every trainee receives the same high-quality, standardized training experience, ensuring uniformity in skill development and patient care practices.
Health Scholars VR training provides a safe, controlled environment where healthcare professionals can make mistakes and learn. This hands-on approach to learning improves retention rates by up to 75% compared to traditional methods. By investing in VR, you're not only saving on costs like travel and accommodation, but you're also reducing the downtime of your medical staff and the cost of taking them away from their critical roles.
Our VR training solutions offer robust analytics and reporting, giving you insights into each trainee's performance. This data allows for personalized feedback and targeted retraining, ensuring that your staff meets the highest standards of care. By continuously improving your team's skills, you're not only enhancing patient care but also reducing the long-term costs associated with errors and inefficiencies.
Let's Collaborate
If you're eager to take your medical training to the next level, we invite you to explore our website to learn more about our custom VR content. You'll find a wealth of resources, case studies, and testimonials that highlight the transformative power of our services.
We're here to answer your questions and provide you with a personalized demonstration of our VR content. Whether you represent a medical institution, educational program, medical device manufacturer, or individual practitioner, we can create a solution to match your needs.
To learn more, contact us at info@healthscholars.com. Let's embark on a journey of innovation and excellence in medical training together. Join us in the VR revolution and experience the future of medical education.
Share This Story, Choose Your Platform!