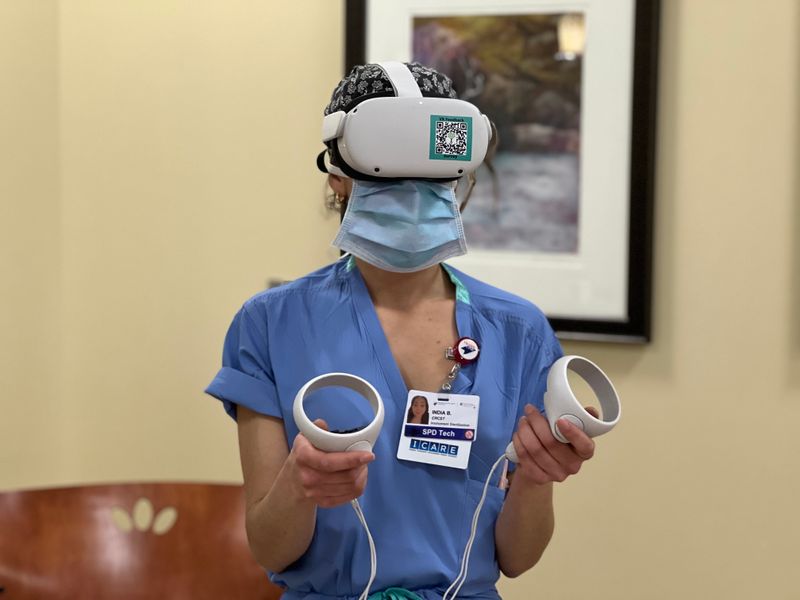 How VR Training Supports Nurse Retention
Published December 1, 2022
According to recent data, among healthcare top concerns are high employee burnout and reduced well-being, which propels already high turnover rates. Healthcare providers are left with the challenging task of figuring out how to reverse this shift in retention.
"Nurses are leaving the profession or changing careers in droves," states a report from healthcare staffing platform Cross Country Healthcare and Florida Atlantic University's Christine E. Lynn College of Nursing. "The drumbeat is getting louder. We need to fix this. Healthcare industry leaders require a foundational change to refresh and salvage this essential profession."
Virtual reality provides a comprehensive solution to the nurse retention problem – here's how VR training can lessen moral damage and fatigue while enhancing safe practices and team satisfaction.
Recent Findings
Although the healthcare industry is historically resilient, the COVID-19 pandemic amplified existing nurse recruitment and retention challenges. Even before the pandemic, a nurse's typical day was overpacked with critical care situations, a strenuous workload, grief, and nurse-physician collaboration and conflicts.
Now, nurses have to deal with additional underlying stressors, such as daily use of personal protective equipment, continued exposure to COVID-19, fluctuating hourly pay, and an even greater strain on workload due to reduced bed counts.
According to recent research from the 2022 NSI National Health Care Retention & RN Staffing Report, the turnover rate for staff RNs increased by 8.4% in 2021, resulting in a national average of 27.1%. That same data shows that a hospital's average cost of turnover for a single staff RN is a staggering $46,100. This high cost of turnover dramatically affects a facility's already diminishing margins and needs to be quickly addressed.
At the end of the day, this is a human problem, and it needs a human-centered approach to solve it. Enter virtual reality.
3 Retention Benefits of VR Training
While training in a virtual reality setting offers numerous advantages, we've identified three of the strongest ways in which VR training provides the human-centered approach needed to improve nurse retention and satisfaction.
Reinforces Existing Training
The nursing workforce has gone through extensive education and training to gain the credentials required for employment. Yet research shows continuing education is critical for nursing staff and clinicians to stay compliant with industry standards, as well as remain "fresh" for any situation that may happen in the operating room, emergency department, or elsewhere.
Virtual reality training allows clinicians and nurses to validate and refresh their competencies through repetition and refinement. When nurses feel equipped to do their job well, they're more likely to embrace their roles and responsibilities.
Reinforced training can also help address moral injury, which occurs when someone engages in, fails to prevent, or witnesses acts that conflict with their values or beliefs. For nurses, this can look like seeing a great deal more suffering than expected, or experiencing a high-risk situation. By providing your nurses opportunities to run through simulations of high-pressure situations, you prepare them with the tools to make the correct decisions.
Increases Confidence
A common fear nurses carry is that they won't be able to fully provide for their patients in any scenario, which can affect their professional self-image, or "self-concept."
A 2022 study showed that perceived professional self-concept was at an all-time low for frontline nurses, and correlated with satisfaction level and professional training. To guarantee nurses' occupational safety, stable mental health, and staff retention, healthcare leaders should recognize the commitment of frontline staff nurses and focus on nurturing staff confidence.
Simulating real-life emergencies like obstetric hemorrhages or breakout fires in the operating room gives nurses multiple opportunities to practice correct responses, which increases trust in their abilities to provide care. VR training allows nurses and frontline clinicians to train in a private, judgment-free environment where they can gain experience, become confident in their abilities, and fully engage in learning, which will empower them to provide the best patient care possible.
Drives Professional Growth
Nurses, like any other profession, want to feel seen, heard, and understood. A recent panel discussion with Relias showcased the results of a large retention-based survey of nurses – one of the biggest insights gained was that nurses desire extra educational opportunities to learn and grow.
Invest in your nurses' professional growth by implementing VR training that exposes them to new situations and harnesses their emergency response skills. VR training provides a new experience that's out of the ordinary for nurses and can increase their knowledge and understanding of the hospital's standards and protocols.
Prioritize this continuing education and development and show your staff that your organization care about their professional growth.
How Can Health Scholars Help?
Interested in how Health Scholars can help support your nurse retention efforts? Contact us to start a conversation.
Share This Story, Choose Your Platform!