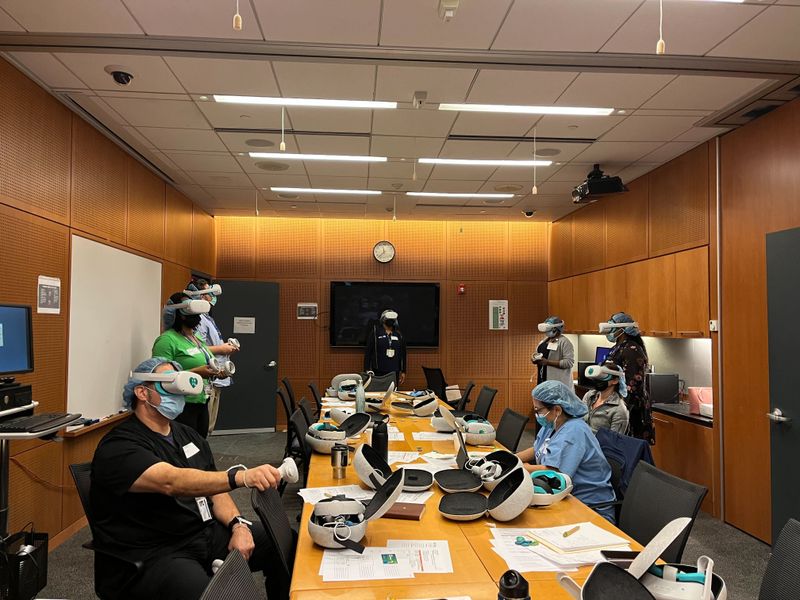 4 Steps to Implement VR Training in Healthcare
Published January 26, 2023
The focus of modern medical education has changed from rote memorization of data to an emphasis on teaching clinicians how to use their knowledge to directly determine the best course of action for a particular patient. Virtual reality, or VR, aligns with this approach and provides an immersive way for frontline clinicians to apply their knowledge in high-risk and high-pressure scenarios.
In a recent Time spotlight, Dr. José Barral, chair of biomedical science at the Kaiser Permanente Bernard J. Tyson School of Medicine in Pasadena, California, says, "The potential advantages of VR for clinicians are tremendous, and only the limits of our imagination restrict the possibilities." While the exact numbers on how many healthcare organizations have implemented VR are undecided, the augmented reality (AR) and VR market in healthcare is poised to reach nearly $9.7 billion in worth in the next five years.
Despite this growth, virtual reality is likely still uncharted territory for your healthcare organization. That's why Health Scholars guides each client through our Experience Initiator program, which allows you to implement VR training within your organization in just four steps. Let's jump into them.
How to Apply VR Training in Your Organization
Experience Initiator is Health Scholars' unique and comprehensive virtual reality implementation process that helps your healthcare organization ensure success.
Over the course of several weeks (or even a few days, depending on the customer), our team works alongside you to introduce your team to virtual reality technology, set up your suite(s) of chosen applications, and lead you through proven steps to engage with VR training and realize higher levels of confidence in high-risk events.
1. Goal Setting with Champions
The first step is identifying problems to solve and pulling together the right stakeholders, or "champions," for a successful VR implementation. Many times, there are multiple problems to solve.
These identified goals could include scaling training at lower costs, regulatory requirements for training, reduction of administrative burden, helping clinicians improve confidence, improving patient outcomes, decreasing risk, and providing an onboarding tool for new clinicians or travelers.
Come prepared to answer several discovery questions, including:
What topics are you currently targeting for education?
What metrics do you want to use to measure your success?
Do your teams have ongoing access to training? Is training currently conducted onsite, offsite, or remotely?
We will review the number of target learners to participate, and help determine the training locations where you need to incorporate a VR program – these could be a SIM Center, hospital floor, break room, or other designated space to be determined. Health Scholars sets up your application suites based on these facility protocols and our available options.
Once these goals have been identified with your champions, it's time to move into Step Two.
2. VR Hardware Setup, Creation of User Management, & Reporting Accounts
The most common hardware question we receive is, "What is needed for this to work in my facility?" With Health Scholars, our VR apps only need a wi-fi connection and have very low bandwidth requirements.
We provide support for internal IT teams and also for the admins running the training.
We help determine the appropriate wi-fi network to utilize.
We align with and follow internal security policies.
We help identify appropriate locations for VR training that best utilizes facility wi-fi.
We are the first point of contact for VR hardware to allow internal IT to focus on supporting patient care.
In addition, our product does not collect any patient data, so there are no HIPAA compliance requirements.
Tying goals into the scheduling, we initially add specific users who will train to the user management system and identify who will oversee reporting. Very simply, to add users, we need their first name, last name, email, facility, and department to get started.
Now that you've set up your hardware and users, let's start training and onboarding!
3. VR Champion Training and Onboarding
In this significant and crucial step, Health Scholars spends time leading your VR champions and/or identified stakeholders through a comprehensive and hands-on Training Session shortly before your launch. This session covers both the technology you'll work with and introduces supporting systems and data, which includes user management, reporting, and survey data. The session provides a designated time for key stakeholders to get familiar with the technology and ask questions that will help them use it effectively.
This helps get your stakeholders aligned as well as bring your entire team up to speed on the new technology.
Health Scholars facilitates an overview of the core technology with your team to build familiarity and enable future training sessions. We also provide guidance, such as:
Metric setting and review
Training environment recommendations
Virtual reality "do's and don'ts"
An established training cadence
Hardware management
These initial steps establish a baseline that provides the building blocks of an effective project.
Health Scholars collaborates with you to determine metrics to gather so you can validate the impact of your training and create a roadmap for the measurement of success moving forward. From there, we formalize KPI documentation that is built into the training programs to inform performance dashboards and includes, but is not limited to, application utilization, time in headset, willingness to change practice, and Net Promoter Score.
Once you complete this "soft launch", you're ready for your Go Live.
4. Go Live
It's time to Launch your VR training for real-world use! Make sure you celebrate with your employees who made this happen.
During this final step, our teams continue working with your internal stakeholders, making adjustments to include accepted verbal commands based on your organization's protocols and management. This allows you to confidently maintain your training modules long after we're no longer onsite.
We also offer Continuous Support for any needs you have on your VR journey.
The Health Scholars Approach
Growing frontline clinician confidence is at the heart of our mission, and that starts with how we lay the foundation for your transition to VR training. We know that VR is unfamiliar to many healthcare organizations, and we're here to help pioneer this for your training programs.
Your clinicians receive comprehensive support from the get-go, so when they're ready to train, they can do so on their terms. Each Health Scholars application provides clear and simple instructions for using the technology before they begin using the headsets for training. From there, they enter a private, judgment-free zone where they gain real-world experience that helps them give their patients the best care possible.
Health Scholars gives you everything you need to fully embrace the power of VR in clinician training.
Ready to Implement?
Ready to implement Health Scholars and join the Experience Initiator? Contact us here to set up a demo, or check out our wealth of virtual reality topics, including tips and tricks.
Share This Story, Choose Your Platform!