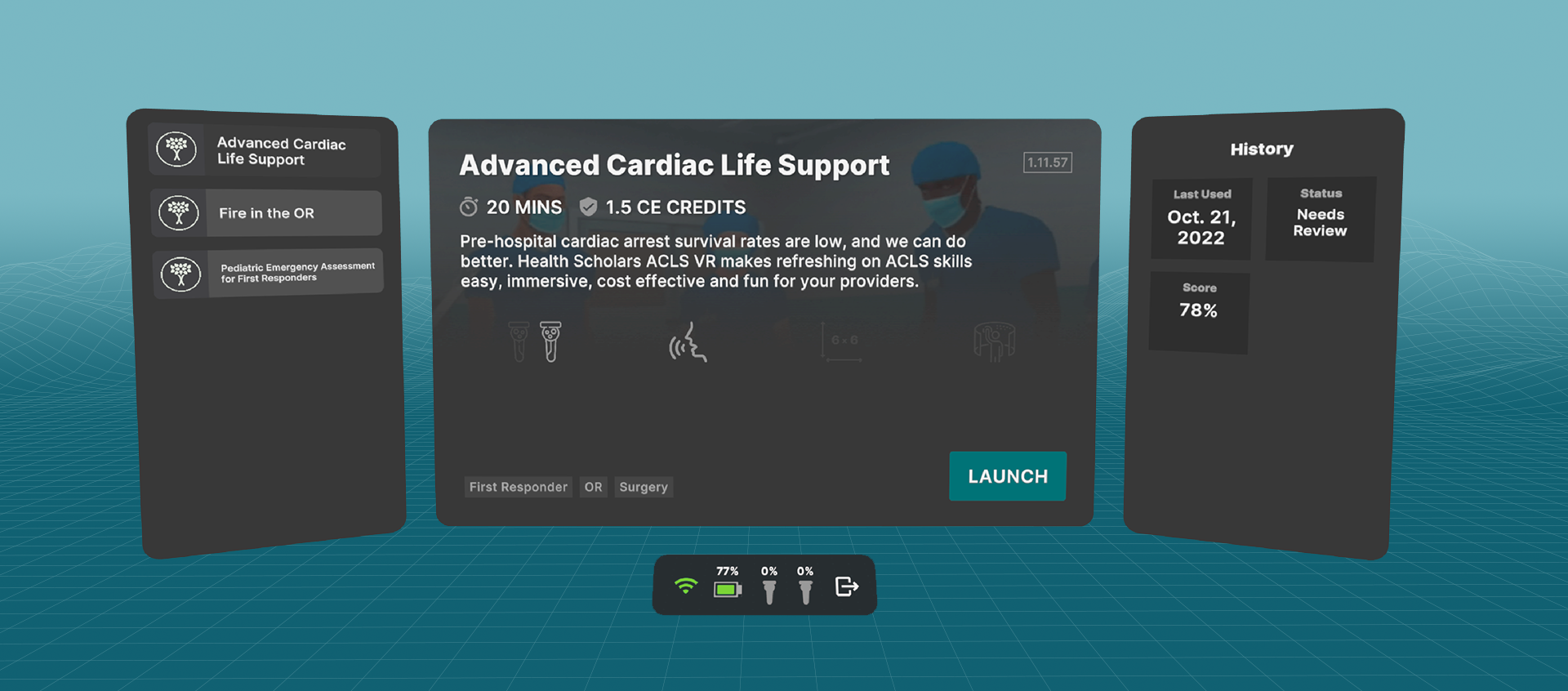 Health Scholars Workbench
A New Way to Create VR Training Content: Health Scholars Workbench
With increasing labor costs and staffing shortages continuing across the industry, healthcare organizations have a clear mandate to lower costs while increasing employee engagement and retention. In-house training for nurses and clinicians provides an avenue to accomplish both.
Hospital leaders must utilize training singularly tailored to a hospital's unique needs, and Health Scholars' virtual reality (VR) simulations create a way to do this. It offers a psychologically safe, controlled environment for nurses and clinicians to practice their skills on site and at their own pace. 
VR as a modality is on the rise. According to recent research by Pitchbook, the VR market is expected to grow at a rate of 25% by 2025. At Health Scholars, we are excited to be part of this growth as we expand our VR capabilities to empower people in healthcare to impact internal education.
In 2021, we realized that to meet customer demands, we needed to not only build content faster, but also allow partners to build content on our platform. We wanted to bring custom content to fit individual customer requirements while still maintaining the strong VR content standards that Health Scholars is known for. 
Introducing: The Health Scholars Workbench
We are proud to introduce the Health Scholars Workbench, a revolutionary, no-code platform where partners can build the exact VR scenarios they want. 
We sat down with members of the Product and Leadership teams to discuss the launch of this revolutionary product.
What inspired the development of the Health Scholars Workbench, and what was the project's goal?
Motivated by our customers' immediate needs, we wanted to deliver greater value faster. After developing a virtual reality simulation library and establishing a customer base, requests from customers for new simulations came in rapidly. We realized we needed a tool to move faster, cut development costs, and fill the demand. 
We developed Workbench as an internal tool, and it quickly evolved into an opportunity to put the power of VR development into the hands of our partners. By empowering other organizations to create their own VR simulation training programs, we will remove the limitations of solely relying on the Health Scholars product release schedule.
How does the Health Scholars Workbench ensure that the VR simulation training programs created are effective and meet the needs of healthcare organizations?
We take quality simulation and learning opportunities seriously. We spent the last five years building our applications with industry thought leaders and scientific institutions because we know quality simulation means better outcomes.
To ensure applications built in Workbench are up to our standards, we will have a subject matter expert advisory board, in-house clinicians, and in-house simulation/educational design experts review all new applications built in Workbench. 
How does Workbench support/complement the current Health Scholars offerings?
Today, Workbench is being used to refine our existing library. Our current offerings solve many problems for our customers, but we always seek improvement at Health Scholars. Right now, we're using Workbench as an internal tool to make our existing applications even better for our customers. 
Workbench: Primary Features
Highlight the key features and benefits of the tool and how it makes it easy for your partners to create their own VR training programs.
Our teams have created tools that allow partners to design and build custom training applications on the Health Scholars platform. This includes:
Patent-pending voice processing system

No-code tool for bringing your simulation ideas to life

Content availability in weeks versus months
Describe the process of building a custom VR simulation training program using the Health Scholars Workbench.
Essentially, we've taken all of the technology, art, and expertise we've spent the last five years building and put it into a simplified interface that our partners with zero coding background can use. 
Partners choose an environment, select avatars, and create a flow of actions; it then gets sent to a VR headset and becomes an interactive simulation. 
Workbench: Key Benefits
What benefits can partner content creators expect from using the Health Scholars Workbench to build custom VR simulation training programs?
Improved Efficiency
Health Scholars partners don't need to contact custom development shops or build a VR development team in house. They can leverage Workbench and Health Scholars' expertise in VR training for healthcare to create meaningful content quickly.
Reduced Costs
Health Scholars has invested millions of dollars, spent years in the market, and made countless iterations based on customer feedback. Our partners get the benefits of our knowledge and technology without the upfront capital and go right to building powerful training applications in weeks, not months. 
Speed to Market
What used to take nine months to build can now be built in two weeks using the power of Workbench. With art assets and interactions already created, crafting compelling healthcare-based training quickly has never been easier. 
The Future of Healthcare Training
How does the Health Scholars Workbench benefit healthcare organizations today?
Health Scholars providing Workbench to partners allows them to bring meaningful content to healthcare organizations much faster than Health Scholars can produce on our own. 
We believe healthcare organizations are already seeing benefits from adopting VR training, and we expect exponential growth of VR adoption across all healthcare sectors over the next two to three years.
Workbench allows other focuses of VR in healthcare to be created and delivered in the same format and platform our customers already use today.
What is the future of VR simulation training in healthcare, and how does the Health Scholars Workbench fit into that future?
Every day, more and more healthcare organizations implement VR and medical simulations. At Health Scholars, we pioneer innovative VR technology, like our patent-pending voice-led simulations. Workbench is the next iteration of this innovation and represents the future of healthcare training for clinicians everywhere. 
Discover Workbench for Your Organization
Learn more about Workbench to get the full details on the platform, or find out what makes our virtual reality training programs different.
Ready to implement virtual reality and join the future of healthcare training? Let's start a conversation or set up a demo.
Share This Story, Choose Your Platform!