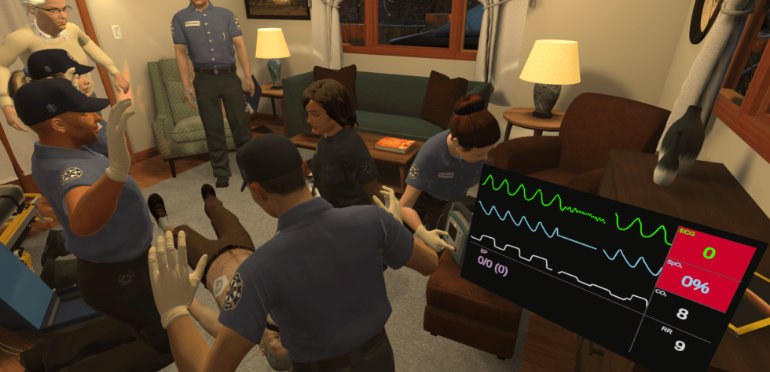 Health Scholars and CareerCert team up to improve patient outcomes through virtual reality training
Published January 29, 2022
Expansion of online training will include virtual reality assisting medical departments in ACLS training.
Health Scholars, the company recognized for voice-directed VR simulations including advanced cardiovascular life support (ACLS) training for first responders and clinicians announces a partnership with CareerCert which will expand their online training to include VR to help emergency and healthcare departments receive consistent, accessible, experience-based ACLS training that can save lives in their community.
While ACLS certifications last for 2 years, ACLS skills can deteriorate within a matter of months if not constantly practiced and refreshed [1]. According to the American Heart Association, to improve outcomes for cardiac arrest the current "approach to resuscitation training should be replaced or supplemented with a spaced practice" that allows emergency and healthcare providers to receive tailored feedback and technology-enhanced training to refresh critical knowledge and skills.
"Health Scholars' virtual reality training prevents ACLS skills decay by enabling learners to physically engage in code situations at an appropriate frequency," says Daniel Katz, an ACLS instructor and anesthesiologist. "It's realistic, clinically accurate, and can be completed at the convenience of the learner."
"With average adult survival rates of 26% for in-hospital cardiac arrest and up to 11% for out-of-hospital cardiac arrest, continuous improvement to cardiac arrest response and training is an obligation to patients," says President of Health Scholars Brian Gillett, MD. "First responders and healthcare providers are on the front lines of patient safety and deserve effective, experience-based training and skills assessments."
To connect emergency and healthcare departments with this vital training, CareerCert now offers Health Scholars' ACLS virtual reality training as part of their online training solutions. Emergency and healthcare professionals can easily access a wide range of online training options designed to improve patient outcomes, including virtual reality, interactive mobile learning, virtual instructor-led training, scenario-based education, multimedia online courses, and 3D learning.
"In order to keep up with the rapid acceleration of medical knowledge, first responders and healthcare providers need innovative, comprehensive training that fits their schedules and helps them provide the best care possible," Scott Jensen, Senior Vice President at CareerCert says. "Virtual reality is one key factor in providing quality training that makes an impact."
Health Scholars' CEO Cole Sandau adds, "Healthcare providers consistently give their all to help others, which is why we believe first responders, clinicians and their patients deserve the best training possible. Our partnership with the CareerCert division of Carrus will help ensure that we can bring effective VR training to a larger number of providers and we could not be more excited to add our ACLS VR training to CareerCert's program."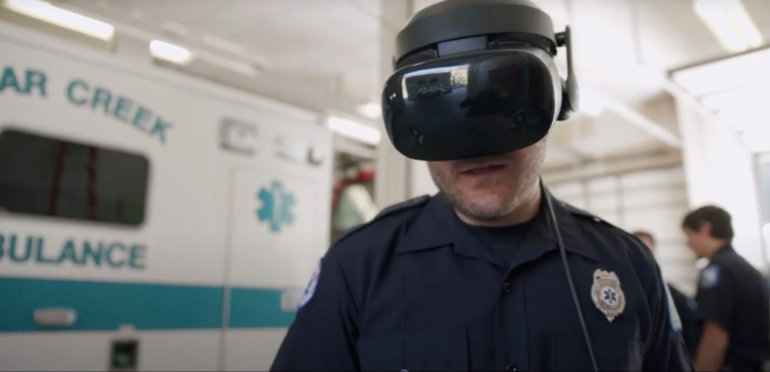 This industry-leading ACLS virtual reality training helps emergency and healthcare departments:
Save up to 83% on training costs compared to high-fidelity simulation-based training
Refresh provider knowledge and skill in all of the AHA core rhythms
Reduce the number of educators/proctors needed to run a successful simulation by 75%
Provide consistent yet flexible training that providers can easily access 24/7
Manage and report on provider improvement and clinical readiness
Build provider communication skills, situational awareness, and critical thinking
Offer deliberate practice and targeted feedback to improve provider care
About Health Scholars
Our mission is to advance healthcare education through virtualization, making experience-based training scalable, accessible and affordable to both Healthcare and Public Safety providers. Our VR platform provides  management, delivery and performance analysis of VR simulation training and we offer AI-enabled VR training scenarios for resuscitation, perioperative, obstetrical, and public emergencies, providing a risk-free environment for the repeated deliberate practice necessary to improve outcomes.
About CareerCert
CareerCert helps first responders and healthcare providers improve outcomes and protect communities through industry-leading online training. We offer innovative continuing education created by and for medical, fire, and EMS professionals. Our online solutions help emergency departments easily manage, track, create, and report on training in one easy place so they can conveniently access the tools they need to stay compliant and protect their communities.
[1] American Heart Association. Resuscitation Education Science: Educational Strategies to Improve Outcomes From Cardiac Arrest. Circulation. 2018;138.
Share This Story, Choose Your Platform!