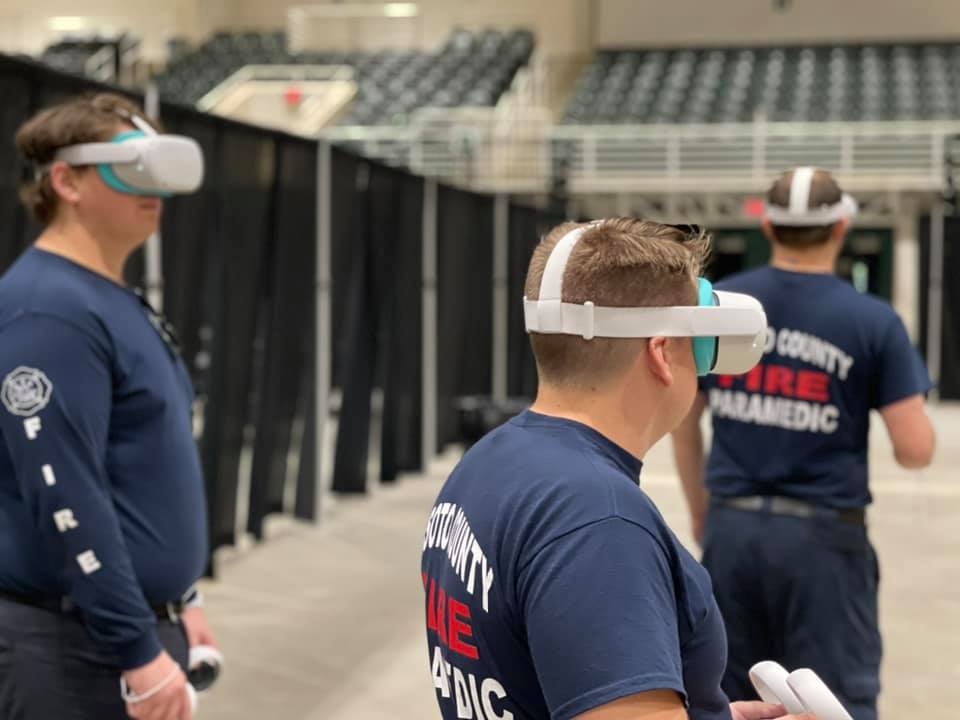 Groundbreaking pediatric training tour uses VR to improve emergency care for children by rural ems providers
New education with VR training from Health Scholars to help rural Florida EMS agencies maintain critical pediatric emergency skills
ORLANDO, FL and WESTMINSTER, CO, May 12, 2021 – HealthScholars, recognized for voice-directed virtual reality (VR) clinical training, and the Orlando Medical Institute (OMI), are teaming up to deliver in-person VR-powered emergency medical training for first responders in rural communities across Florida.
Supported by a grant from the Florida Emergency Medical Services (EMS) Section, the free training program led by OMI will target rural counties across Florida to address gaps in EMS education, including preparedness for pediatric emergencies. Children account for only a small percentage of pre-hospital emergencies but their care requires specialized training that is often unavailable for rural paramedics and emergency medical technicians (EMTs).
"Rural EMS agencies often lack the funds to provide specialized pediatric training for their EMTs and paramedics," said OMI President Felix Marquez, BS, NRP, a veteran EMS educator who is also a recently appointed member to Florida's Emergency Medical Services for Children (EMSC) Advisory Committee. "Thanks to the grant from the state of Florida and support from Health Scholars, this campaign will fill that gap with free training for hundreds of EMS professionals using the latest VR technology and educational content."
Marquez has started his road tour with EMS educators with the goal of training over 300 EMS providers across 39 Florida counties. Marquez has already coordinated training for three regional hub locations: including North Florida College in Madison County, DeSoto County Fire Rescue in Arcadia, and Monroe County Fire Department in Crawl Key, Florida.
"It is a nuanced art to determine whether a child is severely ill and then initiate life-saving aid," said Brian Gillett, MD, President of Health Scholars. "The training Felix is providing is essential to overcome skills decay since pediatric assessment is so rarely used. With Health Scholars VR, EMS providers can experience real scenarios that align with American Academy of Pediatrics (AAP) standards and professional safety guidelines, helping them to recognize critical symptoms in children in high-stakes situations."
"Through this collaboration, EMS professionals will have better access to advanced training in pediatric medical emergencies, including practice of critical cognitive skills necessary to treat these emergencies in the field," said Janna Patterson, MD, FAAP, Senior Vice President of Global Child Health and Life Support for the AAP. "The Florida program is a good testing ground to determine whether a blended-learning program utilizing VR can make real-life training more accessible and scalable to EMS personnel across the country."
Currently, pediatric emergency preparedness training is difficult to prioritize among EMS, especially in rural fire agencies, because it can be time-consuming, costly, and labor-intensive. Yet the training is especially critical because children have anatomical and physiological differences that mask early indicators of severe illness and make resuscitation difficult to manage.
Participants in OMI's training program will complete an evidence-based blended learning curriculum that has EMS using Oculus Quest VR headsets and Health Scholars' voice-directed VR simulation to practice the role of team lead and care for acutely ill pediatric patients in multiple settings. Learners evaluate infants and children to identify underlying conditions and intervene with pediatric resuscitation workflows in accordance with ILCOR evidence-based review and American Heart Association guidelines. Health Scholars Pediatric Emergency Assessment™ trains them to recognize the subtle indicators of severe illness across a spectrum of ages, ethnicities and skin color so they can confidently assess and initiate stabilization or CPR when indicated.
"Real-to-life VR training offers an exciting new educational option for maintaining pediatric emergency preparedness in EMS and ED settings," said Phyllis L. Hendry, MD, FAAP, FACEP, professor of emergency medicine and pediatrics at the University of Florida College of Medicine – Jacksonville. "These ultra-realistic visualizations and interactions mimic care situations with great accuracy so EMS providers are prepared to handle these scenarios when they happen in the field."
About Health Scholars
Our mission is to advance healthcare quality through virtual reality training, making experience-based training scalable, more accessible, affordable, and measurable to help health professionals reduce errors and improve patient safety. With our on-demand, voice-directed VR training healthcare organizations and EMS agencies can easily deliver the competency and confidence their providers, and patients deserve. Learn more at www.healthscholars.com.
About Orlando Medical Institute
Orlando Medical Institute is a fully accredited institution in the State of Florida. We offer training programs in the fields of Emergency Medical Care, Nursing, and Continuing Education. Our educators are all dedicated medical professionals eager to share their knowledge and expertise in our best-in-class facilities, which provide the most realistic simulation training possible. Our accredited programs include EMT and paramedic training, A.S. degree in Emergency Medical Services, and continuing education programs from the American Heart Association (AHA), National Association of Emergency Medical Technicians (NAEMT), and the National Registry of Emergency Medical Technicians (NREMT). Learn more by visiting https://omi.edu.
Contact Information:
Chris Ingwalson
Health Scholars
(303) 915.0087
Chris.Ingwalson@HealthScholars.com
Share This Story, Choose Your Platform!