Best practices for disinfecting your VR headset.
Published January 27, 2022
Virtual reality is the most effective way to train your medical team. And it's especially valuable now, when people are looking for ways to keep their skills up without gathering too close together in a classroom or in high-fidelity simulation scenarios. Keeping your VR gear clean is simple as long as you're following the recommended safety protocols outlined below.
Clean your VR headset, hand controllers and laptop after every user, no exceptions. This means wiping down hard surfaces with a disinfectant cleaning wipe. And cleaning the headset lenses BUT with a non-abrasive, non-alcohol based wipe.
Softer or more porous surfaces, such as foam and leather, are more prone to hiding viruses and fungi. We recommend replacing the foam faceplate with a leather PCU faceplate but you can clean any of them with the same antibacterial wipes you used for hard surfaces. Just make sure to pay special attention to crevices and folds. If you want to make the process easier, there are disposable and washable headset covers on the market, too.
The whole set needs to air dry completely after disinfecting. Be patient. And don't try to speed things up by setting it in the sun, as sunrays could damage the lenses. If you have multiple headsets or want to avoid the downtime of drying in between cleans, you can consider investing in a UVC disinfection appliance, such as Cleanbox.
And most importantly meet with your infection control team to discuss what protocols they may already have in place for VR cleaning or what measures may need to be added to keep staff and patients safe.
Virtual reality training has a measurable impact on health outcomes. And we're committed to making sure we protect the health of the medical professionals who are out there protecting patients every day.
Questions about keeping your VR hardware disinfected or about VR training applications? Submit a form to contact us, or connect with Customer Service.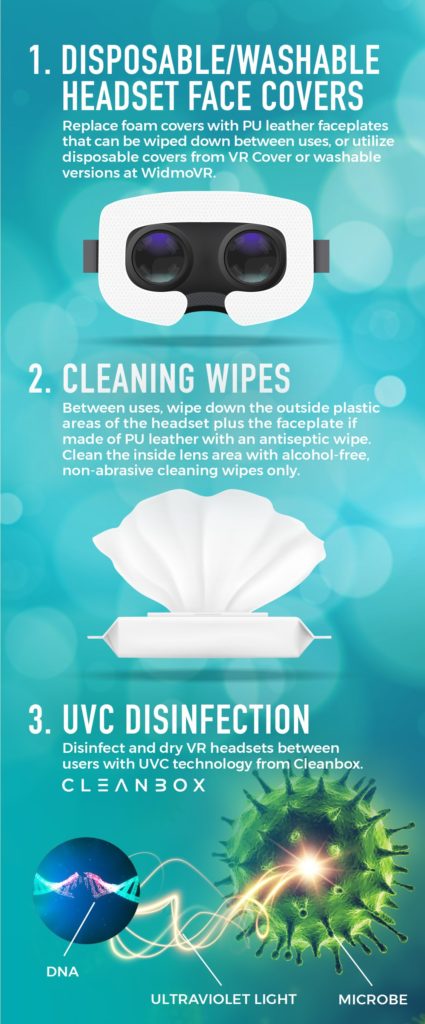 Share This Story, Choose Your Platform!