How to Use Oculus Quest 2 (Business Version)
Learn how to use the business version of your Oculus Quest 2 headset
The printable version of these instructions is available here
Oculus Quest 2 Kit Contents:
Unboxing:
Unpack Quest 2 and set on table
Power on Quest 2 (hold the power button on the right side of the Quest 2
Grab 1 Controller (only 1 controller is needed for setup)
Put on Quest 2 Headset
Room Boundary Setup:
Before you begin: 
Putting on the headset will start the room boundary Setup.
A room boundary is needed for all Health Scholars Apps.
The Quest 2 will always prompt for guardian setup in a new environment.
The Quest 2 requires a 6ft x 6ft well-lit area away from windows and direct sunlight.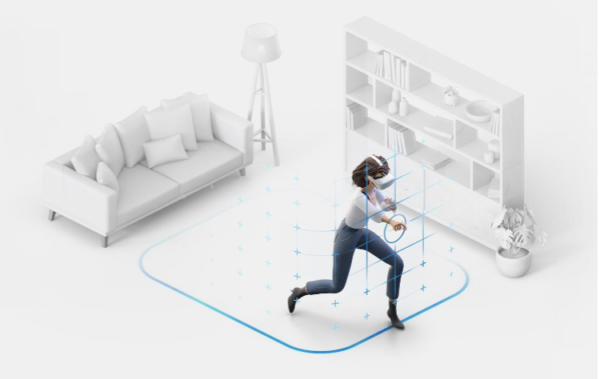 To setup a boundary:
Touch the floor softly with the controller in your hand.
You will see a window asking you to continue to set the room boundaries.
Pull the trigger on the controller to draw your play area.
Make sure you have enough space between the play area and
obstructions in your room. (walls, desks, chairs, etc.)
Once you finish drawing the play area it will show you a grid.
Observe this grid and walk around the room to make sure you have
enough space.
How to Launch Health Scholars Apps: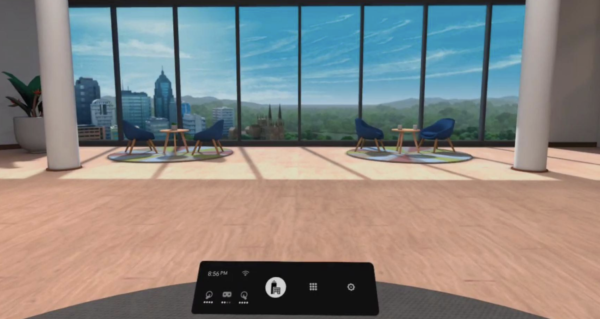 After the Guardian is created, the Quest 2 will go into the Health Scholars home environment.
This is where a user will access the menu to access Health Scholars apps.
The next step is to connect the Quest 2 to a Wi-Fi Network
Wi-Fi Setup: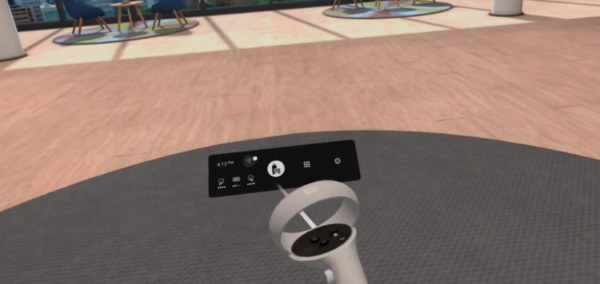 To connect the Quest 2 to Wi-Fi, use the controller to click the WI-FI icon that can be found to the right side of the clock.
This will open the Wi-Fi menu.
A window will appear showing available Wi-Fi networks.
Use the controller to select the correct network and login.
OFB Settings Menu: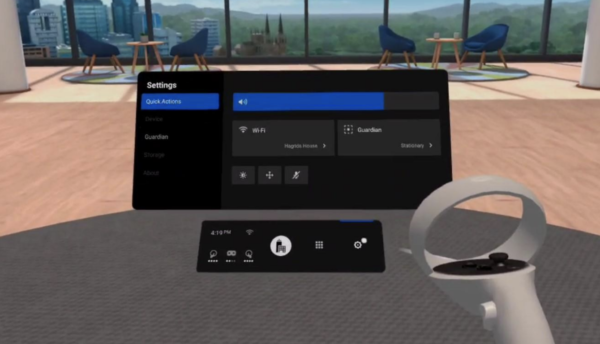 A user has the option to change the current Guardian and Wi-Fi.
Use the controller to click on the gear icon to open the settings menu.
Use the controller to select Guardian or Wi-Fi to change these settings.
Both Stationary and Room-scale options are available for the Guardian Settings
Health Scholars Apps: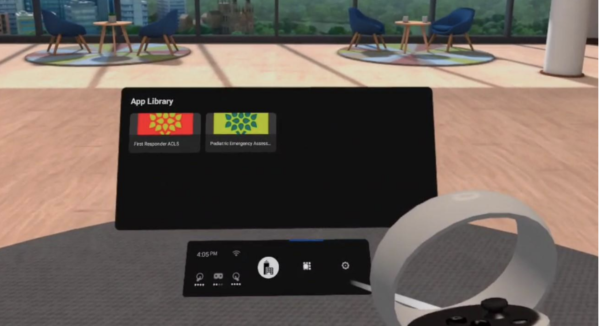 The Health Scholars VR Apps can be found on the Quest 2's App Library.
Use the controller to select the Health Scholars app of your choice.
Health Scholars VR Apps will have a logo with the name of the program underneath.
Casting Instructions
Follow the link to learn how to start casting from Oculus for Business
Power and Charging
Keep the Quest 2 powered off and charging when not in use. This prevents the headset from staying on because it thinks someone is wearing it.
Hold down the power button for longer than 5 seconds until the Quest 2 powers off.
Share This Story, Choose Your Platform!